Used Ford Territory for sale automatic transmission
Used Ford Territory for sale in Sydney – automatic 2007 model
For those who demand excellence at the right price, then this used ford territory for sale is perfect for you!  Automatic transmission, 2007 model and super clean all adds up to a great used 4×4 for the right person.  Those especially looking for more for your money, then you should seriously consider the Ford Territory.  Call Shaun on 0421101021 for more info.
Used Ford Territory for sale – unbeatable value
A used Ford Territory for sale in this condition is rare!  They are especially popular with families on a budget.  These used 4x4s are easy on the pocket and tough on the road!  They are known as designer quality at mass market prices.  In comparison to a Toyota or a Nissan, you get more bang for you buck!  They have been described as affordable, economical, thrifty and comfortable ride.  They are especially a good choice for anybody looking to buy a second hand used 4×4 on a budget here in Sydney.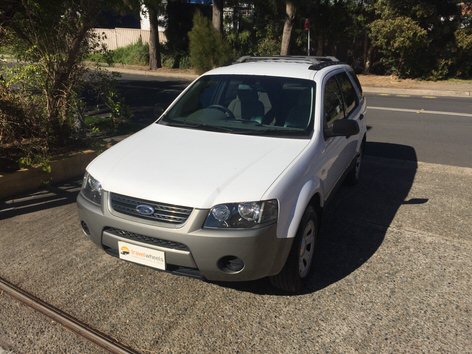 Travelwheels used 4×4 sales in Sydney close to domestic airport
Travelwheels used 4×4 sales in Sydney have a wide range of 4x4s for sale.  We are close to Sydney domestic airport and you are more than welcome to pop by to speak to Shaun on 0421 10 10 21.  Why not pop down for a chat and to test drive some 4x4s.  Alternatively you can email
[email protected]
to arrange a test drive or to check what stock we have left!  We do sell a lot of good quality 4x4s, so might be worth calling in advance as stock does sell out!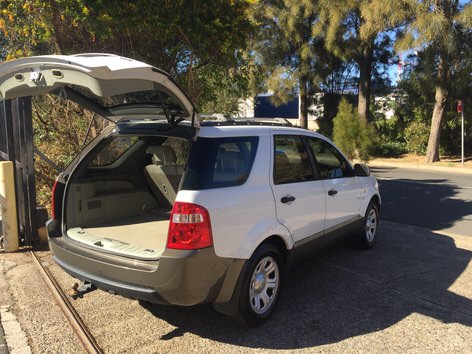 How much was a Ford Territory brand new?
Here are some facts and figures about these vehicles when they were brand new back in 2007.
Ford Territory 2005-2009
Price new: $39,490 to $65,490
Engine: 4.0-litre 6-cylinder petrol, 190 kW/382 Nm; 4.0-litre turbo   petrol, 245 kW/480 Nm
Transmission: 4-speed auto, 6-speed auto, sports shift, RWD, AWD
Economy: 12.2 L/100 km (RWD), 12.8 L/100 km (AWD), 14.2 L/100 km (AWD Turbo) Body: 4-door wagon Variants: TX, TS, SR, Ghia
Safety: ABS, EBD, dual front airbags, side airbags and ESC on some   AWD models and Ghia RWD. 4-star ANCAP.
Here is a review of this model for some background reading on Ford Territory 4x4s.  If you are interested in hiring a 4×4 in Australia then we recommend Boomerang Campers.
Why buy used Ford Territory for sale from Travelwheels?
There are plenty of good reasons why you should consider buying used 4×4 from Travelwheels.  First of all we have been selling used 4x4s in Sydney for over ten years.  Therefore we know what works and how to look after our customers.  Here is a brief summary of the main benefits when you buy a used Ford Territory for sale from us.
* Fully serviced and has a Roadworthy Certificate (Pinkslip)
* 6 Months Registration (REGO) included in the price
* 12 Months Warranty On Engine
* 12 Months Breakdown Warranty included
* 24/7 Australia wide Roadside Assistance
Contact Travelwheels for used 4×4 for sale Sydney
For more information about used 4×4 for sale in Sydney, then give us a call on 0421 10 10 21.  You can email our team at [email protected]  Why not especially pay us a visit to our used  4×4 base in Botany at 11-15 Clevedon Street, Botany, Sydney.