2 Person Toyota Campervan for sale – double bed, kitchen + automatic : REF: 1662
2 Person Toyota Campervan for sale – Automatic mini camper
We have this great 2 Person Toyota Campervan for Sale at our Sydney depot. At first glance, it looks like a car, but in fact, is a fantastic Toyota campervan!  The first thing to remember it has all the facilities you need without the price and size of a bigger camper!  It has two comfy benches and table which convert to a double bed!  The fully fitted out kitchen comes with a pull out two-burner cooker, 35L fridge, water tank, sink and worktop space!  It drives like a car, but sleeps like a campervan!  Call Shaun on 0421101021 for a test drive at our Sydney depot.
Day time configuration
This 2 person Toyota campervan for sale has it all!  Together with a practical design and Toyota reliability, you are on to a winner here. We have designed the layout so that you have everything you need for a weekend or months on the road.  To begin with, it has a comfortable day time lounge.  The two comfy benches and moveable table make it a great space to entertain or relax.  Secondly, we have designed storage under the benches.  There are plenty of windows (with curtains) to make this Toyota campervan feels light and airy.
Comfortable cushions – practical design
A point often overlooked is the practicality of the design.  Our company has been making campervans for over fifteen years, so therefore we know what works!  As can been seen we have not cut corners on the thickness of the bench cushions for example.  They make a comfortable easy to clean (and wash) base for your bed at night time.  It's a perfect space to relax in after a big day out exploring Australia.   Great space to enjoying with friends day or night time!
Night time configuration
The great thing about this 2 person Toyota campervan for sale is that it feels like you are driving a normal car.  However, inside it turns into your amazing mini-hotel on wheels! The double benches fold down easily into your double bed.  Another key point here to note is that it only takes about a minute to convert the table/benches into a comfy bed! The last thing you want to do at night time is to try and make some difficult to handle bed frame!
This bed works like a dream and we challenge you to come down and see how fast you can make the bed!  We would love to see you at our used campervan centre in Sydney to test out our campervans. This practical design is a winner, and many of our happy customers love using this camper to tour Australia.  One last thing to point out is that all the windows in this back of this 2 person Toyota campervan for sale have curtains for privacy.  The sliding windows on our campers have flyscreens to let in air and keep the flies out!
Mini kitchen area in the back of this campervan for sale
This 2 person Toyota campervan for sale comes with a 35-litre fridge in the newly designed kitchen.  We get a lot of positive customer reviews about this design.  Many people say how practical and easy the kitchen is to use.   You are cooking outside of the van and the rear tailgate acts as a sunshade on those hot days camping.   As a result of this clever design,  you can cook in hot weather without overheating!  It also allows you to be close to others and not cut off inside the van cooking whilst everyone else is outside in the sunshine.   The kitchen has everything you heed including a sink, fridge and 2 burner gas stove to cook great meals in the bush!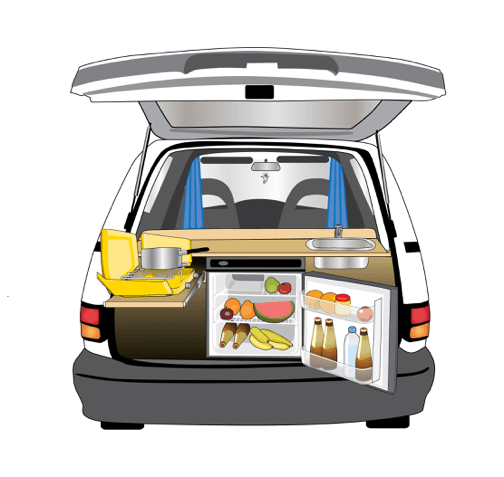 Main Features of this Toyota 2 person campervan
Everything you need for your campervan adventure has already been included in this design.  T
o demonstrate why we believe these campers are such good value for money, check out the essential features below:

Drives like a car, but sleeps like a campervan
Proper 35L fridge and not a tiny fridge or icebox!
Sleeps and seats two adult
Comfortable double bed (1.70m x 1.35m)
Automatic transmission
Air conditioning and power steering (easy to drive)
2 x burner gas stove & 2 kg gas bottle
2 x bed linen, sleeping bags and folding chairs included
All cooking equipment included in the price
Ten-litre water tank and a sink for washing/cooking
Dual battery system for the fridge and internal lights

Note – we also hire these

two person campervans as well
We sell larger Toyota automatic campervans in Sydney.
Why buy a used campervan from Sydneycars?
Our sister company, Travelwheels campervans have been buying and renting campervans for the last twenty years.  Our team knows what works and what does not!  We have many happy customers who have bought campervans from us over the years.  The first point to note is that all our 2 person Toyota campervans for sale are put through a rigorous pre-sales process to make sure they are right for our customers.
We test drive them for a week by allowing our staff to drive to and from work to make sure they are running sweet. Once we are happy, then at this point, it will go into the workshop and have a full service and be road tested again.  All our used ex-rental campervans for sale are professionally deep cleaned both inside and out.  To illustrate the care and attention we put into each vehicle, they come with the following warranty included in the price:
One year warranty on engine and transmission included.
Includes 24/7 roadside assistance.
Guaranteed buy-back option up to 50% valid for one year.
Twenty years of experience in selling and renting Toyota Campervans in Sydney.
Try before you buy!  Rent the camper for a week and then buy to make sure you are happy
We speak Deutsch!
Roadworthy Certificate (Pink Slip).
Have a question, emails us at

[email protected]
Similar used campervans for sale
We have a range of used ex-hire campervans for sale for all budgets.  Here are a couple of other options you might want to consider if this one has sold out.  Every used campervan comes with 12 months warranty included.
1. Automatic Toyota Hiace Campervan for five people
2. Toyota ex-rental Hiace Campervan – three-person model
3. Toyota Hiace campervan – white manual three-person version
4. Toyota Tarago Automatic Campervan – two-person model
Contact us to test a campervan
If you are therefore in the market to buy a 2 person Toyota campervan for sale, then contact us!  You'll fall in love with our range of used Toyota Campervans we have at our depot in Sydney.  Give Shaun a call on 0421101021 to have a chat and to arrange a test drive.    Here is our address at 11A Clevedon Street, Botany, 2019, Sydney.
Have a question about buying a campervan?
Have a question about this 2 person Toyota campervan for sale?  Our friendly team is here to help.  Just send us a message below and the team will get back to you with more info asap.